Product Overview
Mobile Lounge
Brushed Aluminum Handle
W21″ D313/8" H287/8"
Seat Height: 161/2"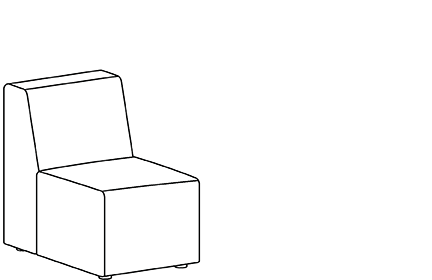 Single Seat Module
Straight Connector
Single-Sided
W21″ D311/4" H287/8"
Seat Height: 161/2"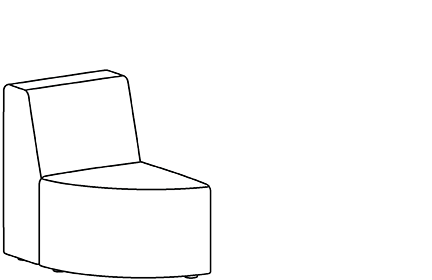 Single Seat Module
Left or Right End Facing
Single-Sided
W21″ D311/4" H287/8"
Seat Height: 161/2"
45° Module
Curved Connector
Single-Sided
W413/8" D325/8" H287/8"
Seat Height: 161/2"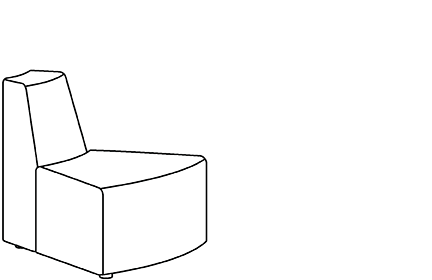 45° Module
Inverted Curved Connector
Single-Sided
W311/4" D311/2" H287/8"
Seat Height: 161/2"
90° Single Seat Module
Corner Connector
Single-Sided
W433/8" D433/8" H287/8"
Seat Height: 161/2"
90° Single Seat Module
Curved Connector
Single-Sided
W433/8" D433/8" H287/8"
Seat Height: 161/2"
Two-Seat Module
Straight Connector
Single-Sided
W411/2" D313/8" H287/8"
Seat Height: 161/2"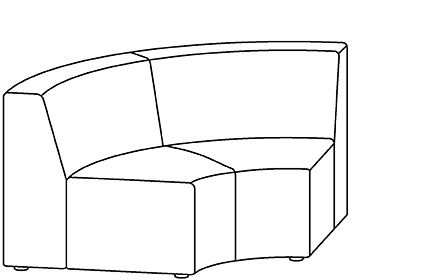 90° Two-Seat Module
Curved Connector
Single-Sided
W651/8" D351/4" H287/8"
Seat Height: 161/2"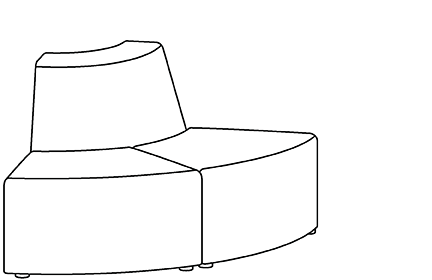 90° Two-Seat Module
Inverted Curved Connector
Single-Sided
W573/4" D331/2" H287/8"
Seat Height: 161/2"
Single Seat Module
Straight Connector
Double-Sided
W21″ D56″ H287/8"
Seat Height: 161/2"
Single Seat Module
End Facing
Double-Sided
W21″ D56″ H287/8"
Seat Height: 161/2"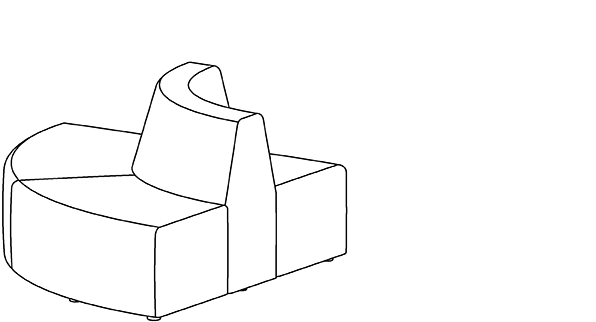 90° Module
Curved Connector
Double-Sided
W785/8" D56″ H287/8"
Seat Height: 161/2"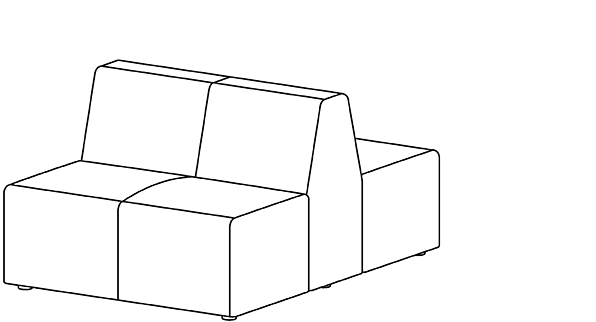 Two-Seat Module
Straight Connector
Double-Sided
W411/2" D56″ H287/8"
Seat Height: 161/2"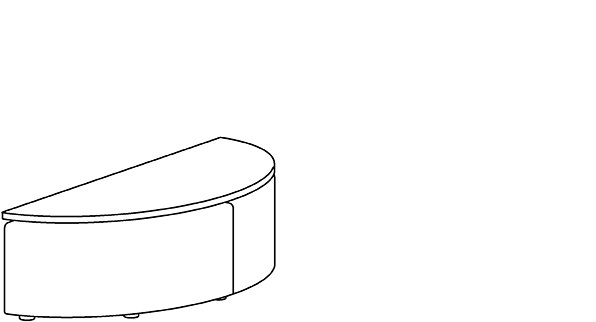 End Table Module
Upholstered Base
Double-Sided
W785/8" D56″ H151/2"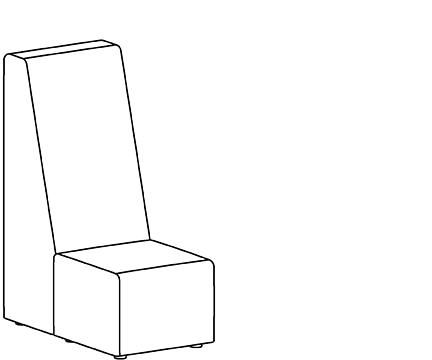 Single Seat Privacy Module
Straight Connector
Single-Sided
W211/2" D37″ H487/8"
Seat Height: 161/2"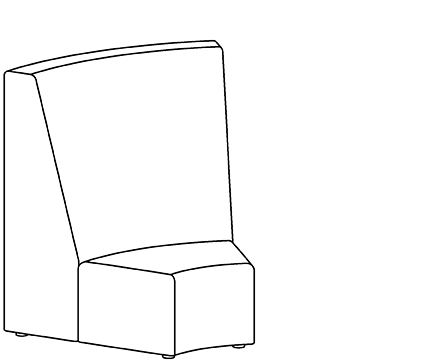 45° Privacy Module
Curved Connector
Single-Sided
W46″ D381/2" H487/8"
Seat Height: 161/2"
45° Privacy Module
Inverted Curved Connector
Single-Sided
W457/8" D381/4" H487/8"
Seat Height: 161/2"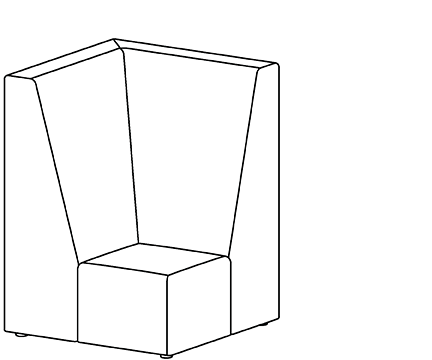 90° Single-Seat Privacy Module
Corner Connector
Single-Sided
W515/8" D511/2" H487/8"
Seat Height: 161/2"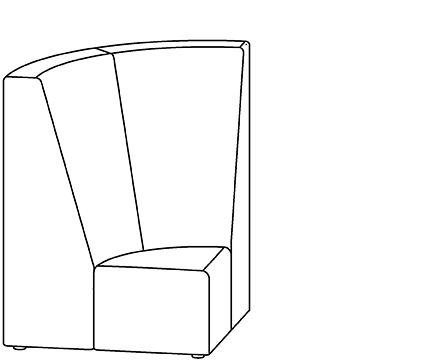 90° Single-Seat Privacy Module
Curved Connector
Single-Sided
W515/8" D511/2" H487/8"
Seat Height: 161/2"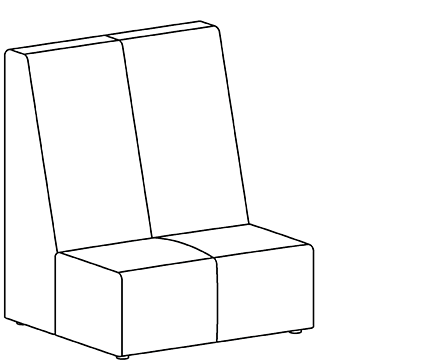 Two-Seat Privacy Module
Straight Connector
Single-Sided
W411/2" D37″ H487/8"
Seat Height: 161/2"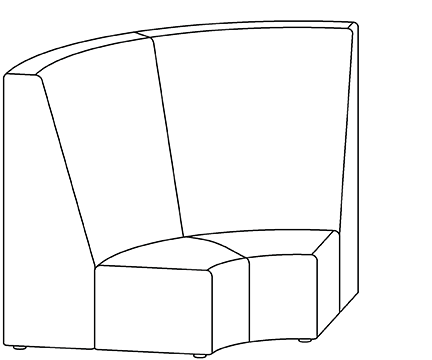 90° Two-Seat Privacy Module
Curved Connector
Single-Sided
W731/2" D411/2" H487/8"
Seat Height: 161/2"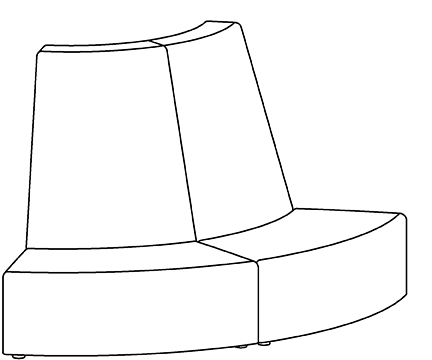 90° Two-Seat Privacy Module
Inverted Curved Connector
Single-Sided
W851/2" D431/2" H487/8"
Seat Height: 161/2"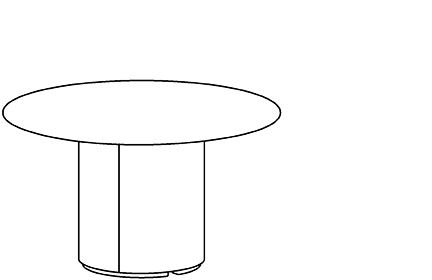 Round Table
Upholstered Base
Mid Height
W22 – 42″ D22 – 42″ H233/4"
Neighborhood, designed by co-founder and CPO of Airbnb, is inspired by the connections people make every day – with new places, new people, and new cultures. This collection celebrates the beauty of these connections while providing comfortable, flexible solutions for the evolving workplace. Using a basic building block as the foundation, Neighborhood is a modular, mobile, and connected design solution for the modern office.
Neighborhood comprises numerous unique modules that range in scope from tall privacy units to sofa sectionals and tables with electrical access to mobile ottomans.
Technology integration and sound-absorbing materials provide a smart option for workspaces.
Fully upholstered, Neighborhood seating and table modules offer a saddle stitch or a jump-master stitch detail.
Tabletop options include wood, laminate, and solid surfaces.
Finishes 671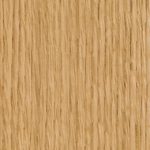 871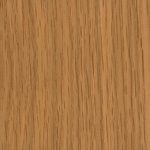 837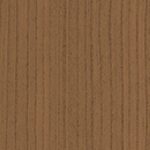 865
872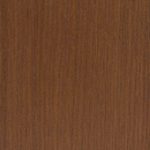 860
836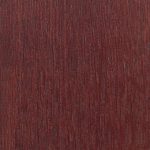 805 839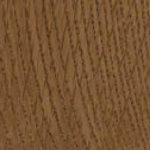 870 861 866 845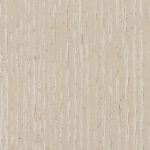 M73 Whitewash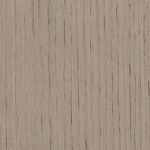 M74 Fawn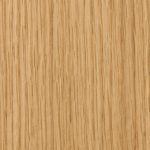 M71 Blonde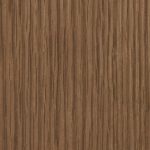 M76 Caramel
M75 Smoke M77 Coffee

Corian®
Glacier White