Product Overview
Lounge
Stainless Steel or Matte Black Base
W325/8" D281/4" H271/2"
Seat Height: 161/2"
Arm Height: 271/2"

Three-Seat Sofa
Stainless Steel or Matte Black Base
W80″ D281/4" H271/2"
Seat Height: 161/2"
Arm Height: 271/2"
The Finale seating collection, the last in Charles Pollock's 50-year design career, offers a design approach that uses a continuous line to lead you in one direction: toward simplicity. The grouping includes pieces that offer a minimal profile with a period modern appeal, yet at the same time, looks very 'of the moment.'
The product grouping includes a club chair and sleek, modern sofa that rests on a base that appears to be floating in space. The base is available in a polished or brushed stainless steel or matte black finish.
Generous seat cushions and gently sloping arm and back cushions add balance to the rigor of the sofa's external structure.
The body of the lounge and sofa is traced in a matching or contrasting loop stitch, creating an interesting architectural framework for each piece.
The exterior shell of the chair and sofa, along with the cushions, can be specified in matching or contrasting fabric to accentuate the two elements.
Finishes
stainless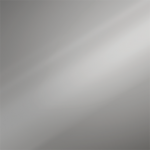 stainless matte black